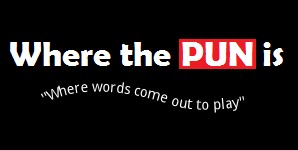 Where The Pun Is
, is a site on the
Moti Network
specifically for the exploitation of words and the natural occurance of them having more than one meaning.
As the site suggests, it is home to many Puns and wordplay in the form of pictures and comics (not to be mistaken for the sister site Daily-Comix) and any other media: newspaper articles or messages such as road signs or other signs that offer a reader other (mostly humourous) meanings.
This site (such as with all other sites on the Moti Network) has endless possibilities and is only restricted by the imagination of a user and rules restricting certain Submissions.
Where The Pun Is also has a forum section, where you can get to know other users and discuss ideas about possible new words to play with as well as get a few ideas to create more interesting or funny Pun-based pictures.
The forum section also has a Rank system that is directly based off of the amount of posts you make in the corresponding forum.
As well as having an Administrator running the whole Moti Network, Where The Pun Is also has a dedicated team of Moderators who see to that all users follow the rules and approve/reject the Submissions to the site.
UPDATE: As of 2016, Where The Pun Is is offline and its domain name is for sale. Its contents were not archived.
Only a few of the pictures already submitted to
Where The Pun Is
and only abrief overview as to what to expect when visiting the site.