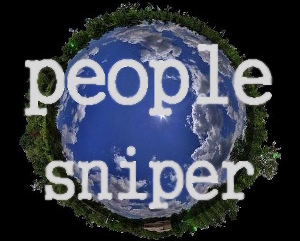 PeopleSniper is one of the youngest sites on the Moti Network thus far and was created on 6 March 2010.
This site is dedicated to taking (captioned or otherwise) pictures of people and making them: funny; interesting; introspective; goofy; de-motivational and/or motivational and in doing so, 'sniping' the people in the picture.
The submission process and approval process is similar to all the other sites on the Moti Network and as with all the other sites, it also has a forum that you can visit, not only to meet fellow 'snipers' but get a few tips as to making good 'snipes' as well.
The forum section also has a Rank system that is directly based off of the amount of posts you make in the corresponding forum.
As well as having an Administrator running the whole Moti Network, PeopleSniper also has a dedicated team of Moderators who see to that all users follow the rules and approve/reject the Submissions to the site.
People Snipes
Edit
People Snipes are similar to meme-based pictures and are easy to create using a picture found on the internet or that are posted in the forum area.
Just a few PeopleSnipes to illustrate what a 'snipe' is and a few variations of the style involved.
As of 2016, PeopleSniper is offline and its domain name is for sale. Its contents were not archived.