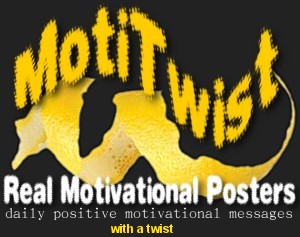 MotiTwist is the site on the Moti Network where any and all motivational posters and/or pictures are posted.
The MotiTwist, or Motivational Twist, site has a few funny and ironic messages here and there, but for the most part it carries inspirational messages for those who feel a bit down at the moment, unlike the sister site, MotiFake which deals with de-motivational or funny posters.
MotiTwist, as with all other sites on the Moti Network has a forum area where you can get to know other Motivational poster makers as well as get a few hints and tips on good inspirational poster making skills yourself.
The forum section also has a Rank system that is directly based off of the amount of posts you make in the corresponding forum.
As well as having an Administrator running the whole Moti Network, MotiTwist also has a dedicated team of Moderators who see to that all users follow the rules and approve/reject the Submissions to the site.
UPDATE: As of 2016, MotiTwist is offline and its domain name is for sale. Its contents were not archived.
The gallery holds only a few of the many motivational posters that MotiTwist has to offer, in it you can see a basic range of the variety of MotiTwist. You can upload and/or create any Motivationally themed poster you desire.