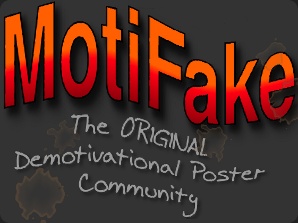 The MotiFake site was established in 2006 and has claim to over 37,000 members. Motifake is a site where you can browse more than 80,000 de-motivational, funny and ironic posters that will make you laugh, realise that Things could be worse and sometimes even just think "What the hell was that person thinking."
The MotiFake site also has a forum section, where you can get to know other 'Motifakers' (people producing MotiFake posters) and grab a few tips on how to make a better (more de-motivational or 'deep') or funnier poster.
The forum section also has a Rank system that is directly based off of the amount of posts you make in the corresponding forum.
As well as having an Administrator running the whole Moti Network, MotiFake also has a dedicated team of Moderators and Approvers who see to that all users follow the rules and approve/reject the Submissions to the site.
MotiFakes
Edit
The gallery holds only a few of the 80,000+ de-motivational posters that MotiFake has to offer, in it you can see a basic range of the variety of MotiFake. Many other websites allow you to make and upload de-motivational posters, and you can upload and/or create any poster you desire.