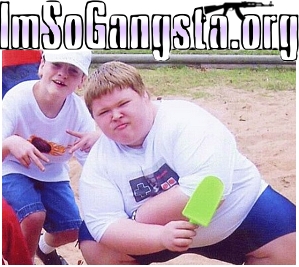 I'm So Gangsta
is one of the older sites on the
Moti Network
being launched Sunday 5 December 2010 and active ever since.
As the name suggests, the site is dedicated to all the people that think the are real G yo, but in all honesty, are far from it. The site holds claim to more than 2000 pictures of people that are real Wannabe Gangsters and ever more pictures are being added on a daily basis.
As well as the other sites on the Moti Network, I'm So Gangsta also has a forum area where you can tell your best Wannabe Gangsta stories, get to know other members of the site as well as have a few laughs at other members' stories.
The forum area on Rate The Hotness also includes a rank system wich is directly proportional to the amount of posts you make in the forum area, this has no real purpose other than showing 'forum experience'.
As well as having a Administrator who runs the whole Moti Network and makes sure that the sites are always up and running, Rate The Hotness has a dedicated team of Moderators and Approvers who approve and reject the pictures and who are there to answer any and all questions regarding the site.
UPDATE: As of 2016, I'm So Gangsta is offline and its domain name is for sale. Its contents were not archived.
Only a few Pictures from the I'm So gangsta site that will give a brief idea of what to expect when visiting the site.