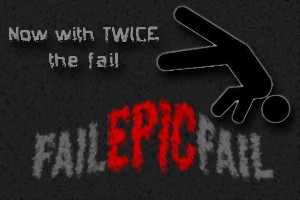 Fail Epic Fail is another of the sites on the Moti Network and is dedicated to pictures that show unmistakeable cases of 'fail' or 'failure' for example someone trying their hand at riding a bicycle, but fails to do so and as a result, becomes very good friends with the ground or pavement.
The site has a very strict set of rules, such as all other sites on the Moti Network, but adhering to them is extremely easy if you follow the guidelines on the submission page.
After submitting a picture to the editor, you have the choice to add text to the picture to make it even funnier, but this is left to users discression and is not necessary for submitting the picture to the site.
Such as all sites on the Moti Network, Fail Epic Fail also has a forum area where you can tell stories about your past experiences which only resulted in failure; get advice on what is funnier than something else, hence giving you tips as to what you should submit as well as gives you the oppertunity to meet other members of the Moti Network and get to know them.
The forum section also has a Rank system that is directly based off of the amount of posts you make in the corresponding forum.
As well as having an Administrator running the whole Moti Network, Fail Epic Fail also has a dedicated team of Moderators who see to that all users follow the rules and approve/reject the Submissions to the site.
The gallery only holds a few of the many pictures already submitted to the site and only a brief overview of what to expect when visiting
Fail Epic Fail
.